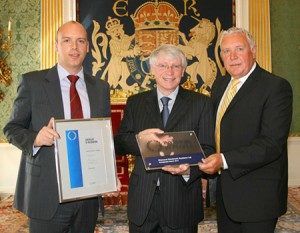 On March, 31 the Diamond Systems team celebrated achieving the prestigious Investors in People (IiP) accreditation.
We were one of 33 local businesses praised by the Department for Employment and Learning for preparing for the upturn by continuing to improve and invest in their people.
Steve Snoddon and Tom Snoddon from Diamond Systems are pictured above with Alan Shannon, the Permanent Secretary of the Department for Employment and Learning, who presented the award, at Hillsborough Castle,
The award has left everyone buzzing and Steve, Diamond's Managing Director says the pay off is already evident, "Since committing to achieve this award we have seen major improvements in our staff morale and productivity.  In difficult trading times, we have demonstrated to our staff that we are prepared to invest in their learning and development, and they in turn have committed to maximizing their performance and consequently that of the company.  The net effect is greater efficiency and increased business."
Mr Shannon said, "I am enthused to see such a diverse group of businesses gaining the tried and tested Investors in People accreditation.  This group represents a cross section of Northern Ireland businesses.  Today we see organisations from all sectors, areas and sizes, ranging from a dental practice in Coalisland employing 6 people to the Belfast Health and Social Care Trust, one of NI's biggest employers with 20,000 staff."
But why is it important? Mr Shannon went on to explain why, "In today's rapidly changing and challenging economy it is often easy to forget that businesses realise their ambitions through their people.  Now is the time for businesses to look to the future, investing in their people to give them that all important edge.  Northern Ireland businesses have faced difficult times over the last couple of years.  However, we need now to concentrate on preparing for the upturn.  Organisations best placed to do this are those that continue to invest in their people, those who continue to strive for improvement and those who adapt to change and learn to innovate."
Since we began trading in 1980s, our company has already experienced and survived one recession and we are determined to do it again.
"By improving communication channels and involving all our staff in our overall business strategy, our people are now more financially aware and keen to highlight new opportunities for business.  Performance levels have increased and within the last month we have been awarded several new contracts, as a result of which we are now seeking to recruit both engineers and sales executives at a time when other businesses in our sector are having to make further redundancies.  We are confident that we will emerge from this recession in a stronger position," explains company Founder, Tom Snoddon.
Investors in People have long been acknowledged as the most successful framework for business improvement through people. They help organisations of every size, sector and location to compete and succeed through improved people performance, using a tailored approach suited to the needs of each individual business.  We are very proud to say we are part of such a wonderful programme.