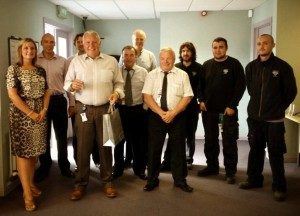 It is a bitter sweet day at Diamond HQ as we say a fond farewell to the man who started it all, Tom Snoddon, as he starts out on his retirement. After 26 years service it is clear that he has brought the company a long way since it all began in 1987.
He desired to build a company that was large enough to perform but small enough to be personal,
"My vision for the company was of a local, family run business but one which had access to the innovation and know-how of the world's leading manufacturers."
Taking into account the numerous projects completed, accreditations gained and partnerships made it is safe to say that this is exactly what he did.
The family business will now be carried on by his son, Steve Snoddon (Managing Director) and daughter, Angela Bennett (Financial Director). However, the values that the company was built on still remain the same: Honesty; Professionalism; Quality; Sustainability; Innovation and Forward Thinking.
However, while no longer involved in the day to day workings of the company, Tom still hopes to continue his work behind the scenes as a non-executive company director.
Thank you for all your hard work, dedication and belief in us Tom. We wish you the best of luck, and remember don't forget to stop by the office every so often!