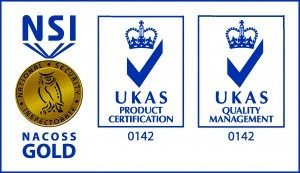 In 2004 Diamond Systems were the 1st Independent Company in Northern Ireland to receive NSI Gold accreditation for both fire and security.
The National Security Inspectorate (NSI) is recognized as the leading certification body for the fire and security industry throughout the UK. Working closely with UK Government bodies, the Security Industry Authority and the United Kingdom Accreditation Service (UKAS), NSI undertakes an intensive auditing process of hopeful companies before awarding certification.
NSI (NACOSS) Gold accreditation is the highest level of certification offered incorporating Product Certification as well as Quality Management System Certification. This level holds the greatest perceived value across the industry and by police, fire and rescue services and insurers. Therefore, businesses and homeowners who choose NSI approved companies have the reassurance that their contractors will work to the highest industry standards.
As Diamond Systems hold NSI (NACOSS) Gold for both fire and security we undergo a number of site and system audits as well as audits of our policies and procedures throughout the year to maintain accreditation.
Since the beginning we have always been at the forefront of the industry not just when it comes to new technologies and service but also for accreditations and sustainability and you can trust we will remain here for years to come.
This video, which was recently released by NSI, gives a practical insight into the importance of third party certification for fire and security companies.
Learn more about the benefits of using an NSI approved company for your business.
Learn more about the benefits of using an NSI approved company for your home.