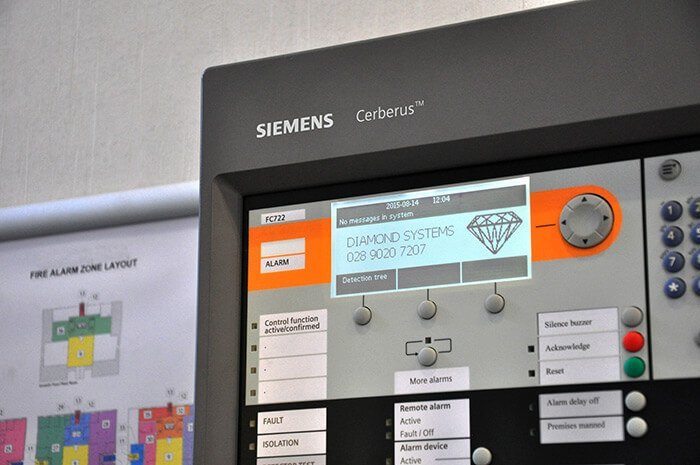 Cerberus Pro by Siemens was recommended by Diamond Systems as the most appropriate system to solve the problem of false fire alarms at a local leisure centre where steam and aerosol emissions in changing rooms were causing unnecessary evacuations of the busy centre.  Traditional smoke detectors often trigger false fire alarms in the presence of deceptive phenomena such as steam, and this can lead to repeated fire alarm activations.
The Siemens ASA neural fire detectors are specifically designed to eliminate false fire alarms in environments with highly deceptive phenomena, such as CO, steam, aerosols, or dust. The technology distinguishes genuine smoke from this other phenomena and is therefore the most innovative and robust form of fire alarm detection currently available in the market.
The upgrade of the legacy fire alarm system at the Leisure Centre to the Siemens Cerberus Pro fire alarm system will utilise the existing cabling in the building, reducing the overall project cost and minimising disruption within the busy Centre.
The upgrade will involve a phased approach by Diamond Systems in order to maintain full functionality of the fire alarm system for the duration of the project, as the Centre will be occupied throughout.
Diamond Systems are the sole Siemens Cerberus Pro Solution Partner in Northern Ireland. Contact us at info@www.diamondsystems.co.uk to arrange your free demonstration of this innovative technology and let's eliminate false fire alarms for good with ASA technology!
Does your fire alarm cry wolf »
Learn more about Cerberus Pro by Siemens »