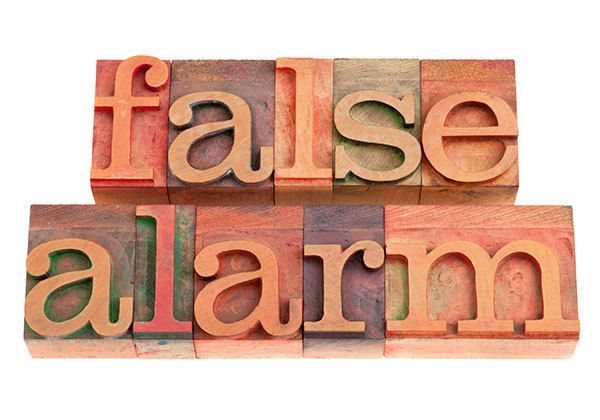 If you have a home alarm system, or if you are a business premises key holder, you will no doubt have experienced the inconvenience caused by a false alarm. For business owners this can delay the start of the working day as you are involved in contacting your alarm company and perhaps even dealing with the arrival of the Police. As a homeowner, a holiday or trip away from the house may be disrupted by a call to say your alarm has activated, causing worry and upset to your plans.
So are false alarms an unavoidable occurrence, or are there precautions you can take to help prevent false intruder alarms at your home or business premises? At Diamond Systems we believe a properly installed intruder alarm system which is subject to regular maintenance from a competent engineer should not generate false alarms, provided the users of the system have been adequately trained in the system's operation.
Here are our top ten tips for preventing false intruder alarms at your home or business premises:
Before you assume responsibility as a key holder for your business premises or, if you have upgraded your home security with a new system, ensure that you have received adequate training on the operation of the intruder alarm, either from a colleague, or the alarm company who installed or maintain it.
Upon arrival at your home or business premises, enter through the designated entry door only. Make sure you know which doors are set up for entry; you can add additional doors to your system but this will need programmed by your alarm company. Your alarm will allow sufficient time for you to enter through the designated door/s and disarm the system – entering via any other route will trigger a false alarm.
Disarm your system before doing anything else! Do not let anyone else enter the premises until you have disarmed the system. The alarm detectors are programmed to permit motion within the entry route only, for a short period of time until the system is disarmed. If someone enters an area outside of these parameters before the alarm is unset, the system will activate, causing a false alarm.
The easiest and quickest way to safely disarm the system is with a key fob. Alarm codes can also be used but are prone to input error, leading to false alarms and the need for technical assistance to reset the system. Key fobs will be programmed with your individual user details, so make sure you don't swap these around with other key holders. Additional key fobs can be programmed and added to your system by your alarm company.
Modern detectors (PIRs) use infra-red beams to detect motion, so make sure these are not obstructed by furniture or stock. Heaters can disturb hanging decorations and may activate PIRs, so either turn off heaters when the building is unoccupied or keep such items away from the heaters. Dual-tech detectors are an effective way to reduce false alarms because they require two different sensors within the detector to trip together. Your alarm company can upgrade your detectors without the need to replace the control panel, so it is a cost effective way to reduce false alarms. Pet friendly detectors are now also available, or alternatively you can omit the detectors in rooms occupied by pets to enable a part set of your system.
If you change the use of, or make a physical alteration to your property, you should ask your alarm company to re-assess the current system design as it may no longer be suitable, and it could invalidate your insurance cover. If you do have workmen modifying or decorating your home or business premises, do not let them make any changes to your alarm system as it may render your warranty invalid, and could cause system performance issues.
Inform your alarm company of any false alarms, and seek their advice when the cause of the alarm is not obvious to you. They may send an engineer out to inspect the system and provide recommendations. Your alarm company can also provide training to new members of staff on the operation of the system. Similarly, contact your alarm company without delay in the event of an actual break-in, to enable them to check over the system and reset it for you. As an NSI Gold Company, Diamond Systems offers a 24 hour response to all emergency calls.
Make sure your alarm system is regularly maintained by an NSI Gold approved company. You should expect to receive routine maintenance checks at regular intervals throughout the year, accompanied by an engineer report on the status of your system, and any recommendations for remedial works. Batteries which provide back-up power are located within your control panel and will need periodically changed. You can also expect to replace your detectors every 8 years or so with the control panel itself typically lasting around 10 -12 years.
Always do a quick walk around your premises before you lock up and set the alarm. Doors which are slightly ajar, heaters which are left on, or windows left partially open, can all cause motion, which triggers some older style detectors, resulting in a false alarm.
Leave through a designated exit door, ensuring your system is fully set. If your alarm is monitored, make sure your alarm company has your correct details in case of any issues with the alarm whilst the building is unoccupied, and always advise them of a change of phone number so that they can contact you. If you forget to set your system, you can now do this remotely from your Smart device with the Diamond Home Control Plus package.
For more information on the Diamond Systems Security range click here: https://www.diamondsystems.co.uk/products/security/