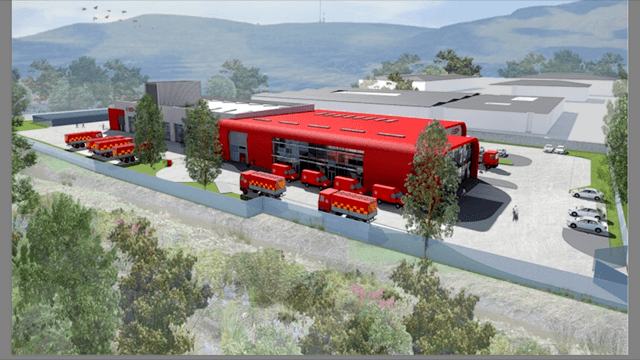 We were recently awarded the contract to install, commission, and maintain all of the electronic life safety and security systems within the new Northern Ireland Fire and Rescue Service Logistics Support Centre, currently under construction in Belfast.  The requirements include IP video surveillance, biometric access control, gas extinguishing, intruder and fire detection and alarm.
As a specialist provider of intelligent solutions, our team will be utilising the very latest technology to not only protect, but also add value.  Steve Snoddon, Managing Director, explains, "Today's engineering solutions must deliver value added benefits, as well as robust functionality, and this is something we do very well. We are delighted to be working with Caldwell Consulting on the Northern Ireland Fire and Rescue Service Logistics Support Centre, with whom we have delivered projects in the past including the prestigious Ulster Bank Headquarters in Belfast; Victoria Apartments, Belfast; Ormeau Bakery Apartments, Belfast; and Whale Technology and Polymer Centre, Bangor."
The life safety solution being delivered to Northern Ireland Fire and Rescue Service incorporates the Siemens Cerberus Pro ASA Technology, which provides the industry's first product lifetime guarantee against false alarms. As the preferred Siemens Cerberus Pro Solution Partner in Northern Ireland, Diamond Systems is unique in its offering of this revolutionary technology, complete with financially backed guarantee against false alarms.
The security solution also incorporates the very latest technology, using HDTV cameras and a Video Management System from leading global brands, Axis and Milestone.  Steve Snoddon comments, "Diamond Systems partner with the world's leading manufacturers of fire and security systems, to deliver a first class solution to our customers in Northern Ireland. Having recently attained Gold Partner status with Axis, the company which invented IP based video surveillance cameras some twenty years ago, we are delighted to be showcasing their innovative product range on this project".
To arrange a demonstration of our false alarm free technology, please contact us.