Diamond Systems are delighted to sponsor local Ice Hockey team, the Belfast Giants, for a fifth successive season.
The 2017/18 season sees the Diamond Systems logo displayed proudly at The SSE Arena both on the ice, as well as rinkside. Diamond Systems are the headline sponsor of the Cheerleaders, the official sponsor of fan favourite Sebastien Sylvestre and, of course, the famous 'Diamond Systems Fan Cam' on all game nights in Belfast!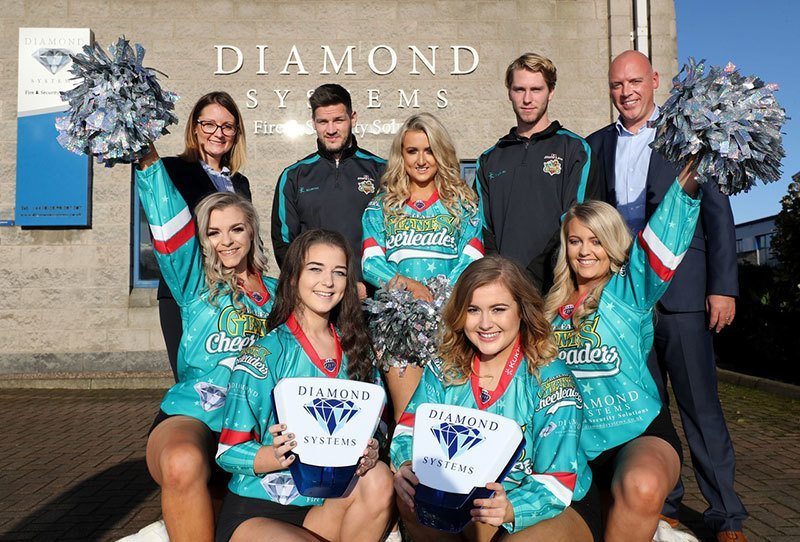 "I am thrilled to have the support of Steve, Angela and everyone at Diamond Systems for the 2017/18 season," said Steve Thornton, Head of Hockey Operations.
"There are lots of synergies between the Giants organisation & Diamond Systems and they are an exciting local brand who are market leaders in their category. I am looking forward to another great season with them!"
Diamond Systems' customer portfolio includes the entire Odyssey Complex, incorporating the SSE Arena, home of the Belfast Giants.
"Sponsoring the Belfast Giants is a great honour for us, as they are not only great sportsmen but they also do fantastic work in our local community" said Steve Snoddon, Managing Director of Diamond Systems. "We were delighted to install the Diamond Systems Fan Cam within the SSE Arena, adding to the experience on game night, which is a really great night out for all the family."
Diamond Systems installed all of the electronic fire and security systems within the Odyssey complex when it opened in 2000, and are responsible for the ongoing maintenance of the systems throughout. To read more, visit Our Projects: https://www.diamondsystems.co.uk/our-projects/.